Welcome to our Cookbook Page..

If your best friend was recently diagnosed with an illness or disease and needs a special diet, then our recipes may be helpful for you.
What You'll Find …
Simplified recipes developed for crock pot use.
Recipes include whole limited ingredients for easier digestion.
Each illness section includes different meats, vegetables and grains (when permitted) in order to vary your dog's meals and provide variety.
A serving size chart based upon your dog's weight.
Recipes tailored to meet the dietary needs of the specific disease/illness that your dog is experiencing (see a list of covered illnesses below).
Healthy, affordable and flavorful meals.
Recommended herbs, supplements and guidance for each sickness.
Co-written by a certified nutritionist.
Home Prepared Meals are Your Dog's First Line of Defense …
Diet is critical to the recovery of any illness.  Traditional veterinarians tend to push prescription pet foods, yet the ingredients in these foods are painful to read, let alone feed to a dog that is sick.
Janie Knetzer, founder of YourOldDog.com wrote "Home Cooking for Sick Dogs" in collaboration with certified nutritionist, Darleen Rudnick of PurelyPets.com to provide dog owners a healthy option regarding diet for their sick dog.  The book  features recipes made from whole foods and healthy ingredients.
Choosing the right herbs and supplements can also be overwhelming for pet owners. Yet, they play a critical part of healing and that's why we include specific supplements for each disease and sickness that are best known for their healing properties.
Proven to support and nourish dogs with a variety of existing health conditions including:
Kidney Disease, Seizures, Liver Disease
Cancer, Heart Disease and Pancreatitis
Real foods play the largest role in the recovery of sick or unhealthy dogs…
By using the same foods that you have in your kitchen along with a Multivitamin Tablet, a good oil (and calcium since home cooking), you can make a tremendous difference in how your dog feels and responds.
Kibble ~ Especially Hard on Sick Dogs
Kibble is hard on your dog's organs.  Dogs AND especially cats are not meant to eat dry foods like this over and over.  Overcooked, chemical laced kibble is becoming more and more a thing of the past.
Pet owners are starting to understand that diet is your pet's best defense against health problems.  When you download this book, you will not only learn how to optimize your dog's diet for premium health, but you will also learn:
Which grains, meats, and vegetables are suitable to feed your dog with his or her particular condition.
Which supplements are best for each condition and disease.
A helpful "About the Recipes" page which includes many helpful tips regarding rotation, substitution, vegetables that should always be included and vegetables that should never be included, using fresh or frozen vegetables, time and temperature control.
Appropriate serving sizes.
How long each specific meal will remain edible for your pet.
 It's up to YOU to take charge of your dog's health
Give your dog's health a chance by taking complete charge of his diet yourself.
Feel better knowing that your best friend is eating whole, real foods that provide real nutritional value.
Spend minimal time preparing home cooked meals, yet deliver superior dietary needs for your sick or aging dog.

Frequently Asked Questions
Some of our top frequently asked questions
Are the recipes in this book designed by a qualified canine nutritionist?
Yes!  Unlike other canine cookbooks written by well-intentioned dog owners, "Home Cooking for Sick Dogs" was written under the consultation of a certified nutritionist. Darlene Rudnick has been a student of nutrition since 1987 and her qualifications certainly speak for themselves!
While I too have been working with nutrition for dogs for many years, I do not hold a degree.  For this reason, I wanted to work with an expert on nutrition for pets, and Darleen has been studying nutrition health since 1987. Here's Darlene's credentials:
A Master's of Science in Holistic Nutrition
Certification as a Holistic Nutrition Practitioner
Conducts ongoing workshops on nutrition
Is an Instructor at the Southern Institute of Healing Arts
Owns and runs Purely Pets Wellness Center
Is home cooking for my dog going to be expensive?
No! You'll be surprised at how much money you will save by following the recipes in "Home Cooking for Sick Dogs." Consider the cost of a bag of prescription dog food. Then consider the cost of treating uncontrolled health issues in your sick dog. Now consider the cost of basic nutritious foods and the long-term health of your pet…
Backed by nutritional science, the recipes in this book not only provide your dog with healthy, whole nutrition, but they also allow you to cater your dog's specific needs by supplementing deficiencies caused by illness.
Can I feed my dog these recipes if they have limitations on their phosphorus intake?
Yes! This book includes several recipes for dogs who need a low phosphorus diet!
Can I feed my dog these recipes if he or she has elevated liver enzymes?
The recipes found in my book can be used for dogs with Early Stage Liver Disease. If your dog has elevated liver enzymes due to ammonia in the blood (Hepatic Encephalopathy) or he or she is vomiting bile due to early stage liver disease; these recipes can be used. The recipes ARE NOT MEANT for dogs who are STORING COPPER in their liver.
If you're not sure, please ask your vet if your dog has copper storage disease. Also, dogs who are in late stage liver disease, may develop kidney problems and suffer seizures associated with their liver problems.
If this is the case for your dog, then the recipes in this book for liver disease ARE NOT recommended. I recommend talking to a pet nutritionist who can personalize recipes for your dog in either of these cases.
Does my dog have to be sick to eat the recipes from this book?
Not at all! Whether your dog is suffering from current illness or whether they are completely healthy, the recipes in this book are designed to create well-rounded and appealing meals!
Just keep in mind that whenever you cook for your dog it is always recommended that you include the following healthy supplements:
Multivitamin Tablet or a Multivitamin Powder
Calcium
A good non toxic Fish Oil
Can I feed my dog these recipes if they have 'X' blood creatinine levels & Kidney Issues.
Yes! The kidney disease recipes in this book are safe for all levels of Creatinine in the blood!
ESPECIALLY NOW, YOUR DOG NEEDS A WHOLESOME DIET IN ORDER TO HELP WITH THE RECOVERY PROCESS
It's important to act quickly when your dealing with sickness or disease.  You do that by implementing a plan of how you're going to fight your dog's illness and hopefully regain his or her good health.
Download your copy today RISK FREE with our 60 day satisfaction guarantee!

What customers are saying
Hear how a few furry friends have benefited from this book
Hi Janie, I thought you should know that my shepadoodle has had some very itchy skin. Poor thing was kept up at night just scratching and scratching. Your recipes have made all the difference. Let's face it, using your recipes is the only diet change we made for him. The winter was particularly rough, but now he's much less irritated and seems much happier. He's always had lots of energy, but we just couldn't get over the scratching. I know you're not a vet, but even my vet didn't have answers. All they seem to do is shrug their shoulders and say; "Sometimes that's the way it is." Which, of course, is no help at all. Let's do the math. One vet visit $120 dollars vs your cookbook $9.99.

It's a no brainer! I highly recommend these recipes for your old dog. Even though mine's only three 🙂

Thank you Janie!

I just wanted to say that I purchased your cook book a few days ago, and have found it truly wonderful. My sweet old boxer Bessie has been wolfing down every last morsel! She has been a fussy eater her whole life, and especially disinterested in her food the last week or two since we discovered her illness, but is loving her kidney diet.

I have looked online at so many diets for dogs with kidney disease and yours has been the most simple and easy to manage.  And obviously tasty! So thank you!

-Celia

People who knew Zoe before say her new found health is a miracle! But we know it's just Janie, her advice and her genuine concern. We will forever be in her debt for saving our sweet Zoe!

– The McNamara Family (Zoe's family)

Natural is God's way .. it's the only reason I can think of why He and Mother Nature have provided this earth with such bounty .. .. I am so happy but, Jasper is delighted AND an absolute delight. His old self again, or should I say, his YOUNG self again? Thank you Janie for all your beautiful wisdom.

-C. Howard (Jasper's mom)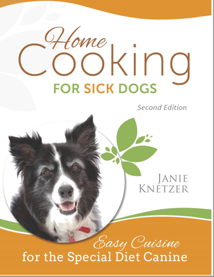 Welcome to our Cookbook Page
Price : $9.99
100% Money Back Guarantee
The recipes were created with both dog and owner in mind and contain
no more than 5 nourishing ingredients. Created by a Certified Nutritionist and
proven to help restore your dog's health.
The recipes can also be used for general maintenance
of healthy dogs.

The recipes were designed to
be cooked in the crock pot for slow cooking
and easy clean up, but can be gently cooked on
your stove or in your oven as well.
You'll receive recipes for Pancreatitis, Kidney &
Liver Disease, Cancer, Heart Disease and Seizures. Recommended
supplements and interchangeable ingredients are also included.
Most recipes can be used or adapted for dogs with IBS
as well.
Click here to learn what you'll find in the book.
Cookbook Slider
I just wanted to say that I purchased your cook book a few days ago, and have found it truly wonderful. My sweet old boxer Bessie has been wolfing down every last morsel! She has been a fussy eater her whole life, and especially disinterested in food the last week or two since we discovered her illness, but is loving her kidney diet.

I have looked online at so many diets for dogs with kidney disease and your has been the most simple and easy to manage. And obviously tasty! So thank you!

People who knew Zoe before say her new found health is a miracle! But we know it's just Janie, her advice and her genuine concern. We will forever be in her debt for saving our sweet Zoe!

Natural is God's way .. it's the only reason I can think of why He and Mother Nature have provided this earth with such bounty .. .. I am so happy but, Jasper is delighted AND an absolute delight. His old self again, or should I say, his YOUNG self again? Thank you Janie for all your beautiful wisdom.

Janie:  Thanks for your reply!  Our littlest dog, Mayble, is still a little thinner, but she is completely back to her normal self. Here is a photo of Mayble (in the purple jacket) along with her pack from a couple of weeks ago. She's in the thick of things as usual. I will continue to use your website for advice as our dogs grow older. I do appreciate the effort you have made to help guide other owners of older dogs. Thank you again!  Have a great day!

Maisy is doing really well (I probably mentioned the vet said she had 1-3 months as of Jan 26th). She's happy and sweet, wants to play and go on walks, has a lot of energy (like when she was a puppy), appetite is great, and she acts like the pain is managed well. I'm doing everything you recommended. I'm so grateful to have found your website with such good information, and thank you again for all of the advice you provided. My head was spinning and I was completely overwhelmed and devastated at the time. You gave me the info I needed to get started on a good protocol for her quickly.

Hi Janie Here is Maizy enjoying a second breakfast of fresh fish risotto. I must say I was tempted to join her it smells so good! I find so much joy in making her food! Thank you again!

On October 4, 2017  I contacted Janie in hopes for help to know what to do for our little Kinsler whom was recently diagnosed with Stage 3 Kidney Failure.

She recommended the cookbook and supplements. At that time he was not eating and Janie suggested the fresh greens in coconut water and

Bentonite Clay

. I had a time getting the greens down him, but it worked! He is now eating everyday! We are so pleased with the cookbook and the recipes along with the variety of meals that it offers.They are really easy to make in the crock pot.

Once the recipe were done, I would then divide it up into serving sizes, placing them into ziplock snack baggies and then into the freezer. Pulling out what I've chosen for him to eat the night before. So easy and he loves the variety. (Beef with sweet potatoes & green beans, turkey with Kale, chicken with rice and spinach) His favorite is the Beef recipe.  Tomorrow I will preparing the Salmon Rizzuto can't wait to see how he will like that one.

 Kinsler when first trying out his new food, he would spit out the vegetables so I placed the cooked recipe into a chopper which blended it. He now eats all his vegetables and really likes the texture. He thinks he's getting gourmet dog food! He is now running around  the house playing with his toys and out in the yard chasing his little sister Callie.

Your cookbook and the recipes you've created have truly turned his life around.

Thank you Janie for always being there to give us support and the knowledge to help us in saving our little Kinsler!  You are truly an angel!

Here is a picture of Kinsler  for you.

Hi Janie, I thought you should know that my shepadoodle has had some very itchy skin. Poor thing was kept up at night just scratching and scratching. Your recipes have made all the difference. Let's face it, using your recipes is the only diet change we made for him. The winter was particularly rough, but now he's much less irritated and seems much happier. He's always had lots of energy, but we just couldn't get over the scratching. I know you're not a vet, but even my vet didn't have answers. All they seem to do is shrug their shoulders and say; "Sometimes that's the way it is." Which, of course, is no help at all. Let's do the math. One vet visit $120 dollars vs your cookbook $9.99. It's a no brainer! I highly recommend these recipes for your old dog. Even though mine's only three 🙂 Thank you Janie!

Web Coder/Sys Admin
I just wanted to say that I purchased your cook book a few days ago, and have found it truly wonderful. My sweet old boxer Bessie has been wolfing down every last morsel! She has been a fussy eater her whole life, and especially disinterested in food the last week or two since we discovered her illness, but is loving her kidney diet.

I have looked online at so many diets for dogs with kidney disease and your has been the most simple and easy to manage. And obviously tasty! So thank you!

People who knew Zoe before say her new found health is a miracle! But we know it's just Janie, her advice and her genuine concern. We will forever be in her debt for saving our sweet Zoe!

Natural is God's way .. it's the only reason I can think of why He and Mother Nature have provided this earth with such bounty .. .. I am so happy but, Jasper is delighted AND an absolute delight. His old self again, or should I say, his YOUNG self again? Thank you Janie for all your beautiful wisdom.

Janie:  Thanks for your reply!  Our littlest dog, Mayble, is still a little thinner, but she is completely back to her normal self. Here is a photo of Mayble (in the purple jacket) along with her pack from a couple of weeks ago. She's in the thick of things as usual. I will continue to use your website for advice as our dogs grow older. I do appreciate the effort you have made to help guide other owners of older dogs. Thank you again!  Have a great day!

Maisy is doing really well (I probably mentioned the vet said she had 1-3 months as of Jan 26th). She's happy and sweet, wants to play and go on walks, has a lot of energy (like when she was a puppy), appetite is great, and she acts like the pain is managed well. I'm doing everything you recommended. I'm so grateful to have found your website with such good information, and thank you again for all of the advice you provided. My head was spinning and I was completely overwhelmed and devastated at the time. You gave me the info I needed to get started on a good protocol for her quickly.

Hi Janie Here is Maizy enjoying a second breakfast of fresh fish risotto. I must say I was tempted to join her it smells so good! I find so much joy in making her food! Thank you again!

On October 4, 2017  I contacted Janie in hopes for help to know what to do for our little Kinsler whom was recently diagnosed with Stage 3 Kidney Failure.

She recommended the cookbook and supplements. At that time he was not eating and Janie suggested the fresh greens in coconut water and

Bentonite Clay

. I had a time getting the greens down him, but it worked! He is now eating everyday! We are so pleased with the cookbook and the recipes along with the variety of meals that it offers.They are really easy to make in the crock pot.

Once the recipe were done, I would then divide it up into serving sizes, placing them into ziplock snack baggies and then into the freezer. Pulling out what I've chosen for him to eat the night before. So easy and he loves the variety. (Beef with sweet potatoes & green beans, turkey with Kale, chicken with rice and spinach) His favorite is the Beef recipe.  Tomorrow I will preparing the Salmon Rizzuto can't wait to see how he will like that one.

 Kinsler when first trying out his new food, he would spit out the vegetables so I placed the cooked recipe into a chopper which blended it. He now eats all his vegetables and really likes the texture. He thinks he's getting gourmet dog food! He is now running around  the house playing with his toys and out in the yard chasing his little sister Callie.

Your cookbook and the recipes you've created have truly turned his life around.

Thank you Janie for always being there to give us support and the knowledge to help us in saving our little Kinsler!  You are truly an angel!

Here is a picture of Kinsler  for you.

Hi Janie, I thought you should know that my shepadoodle has had some very itchy skin. Poor thing was kept up at night just scratching and scratching. Your recipes have made all the difference. Let's face it, using your recipes is the only diet change we made for him. The winter was particularly rough, but now he's much less irritated and seems much happier. He's always had lots of energy, but we just couldn't get over the scratching. I know you're not a vet, but even my vet didn't have answers. All they seem to do is shrug their shoulders and say; "Sometimes that's the way it is." Which, of course, is no help at all. Let's do the math. One vet visit $120 dollars vs your cookbook $9.99. It's a no brainer! I highly recommend these recipes for your old dog. Even though mine's only three 🙂 Thank you Janie!

Web Coder/Sys Admin